Post published:

February 7, 2020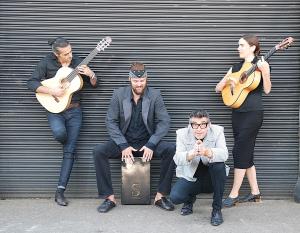 On Sunday, February 9th the music group SEDA will perform around the hearth at the Tualatin Public Library.
SEDA is the brainchild of Mehdi Farjami, formerly of Toque Libre. Mehdi has been studying music from very early on, mastering several genres and disciplines prior to his current passions of latin and flamenco. He is accompanied by Brenna McDonald on rhythm guitar and backup vocals, Pepe Raphael on lead vocals and auxiliary percussion and Nick Hutch on cajon.
The group's repertoire includes a wide range of latin sounds from Afro Cuban, Argentinian Tango, Rhumba Flamenco and also various latin instrumentals. You can learn more about SEDA and sample their music on their website. They will perform starting at 2 pm.