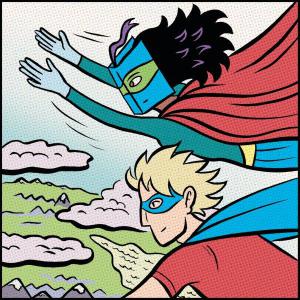 The Tualatin Library's 2015 summer reading program will start this year with a kickoff party on Sunday, May 31st, 2 pm to 4 pm. Kids can play carnival games, watch a magic show, get a balloon creation, and, of course, sign up for the Summer Reading Club and get a free book! This year's theme is "Every Hero has a Story."
Teens have their own program with prizes for reading at least 20 hours over the summer. There will be a variety of teen programs at the library including a Top Chef Competition, Comic Workshop, Retro Game Day, and more.
Participants in this year's adult reading program will receive a voucher for one free item from the Friends used book sale shelf in the library. Adults will also be entered in a drawing for a grand prize gift basket with goodies from local merchants.
Forms for entering the kid, teen, and adult summer reading programs are available at the library. The library is challenging the Tualatin community to read at least 2.5 million minutes this year. Please join and help us reach that goal.
The Friends donated more than $9000 to the library this year for books and programming for the Summer Reading Program. We hope you'll enjoy it!