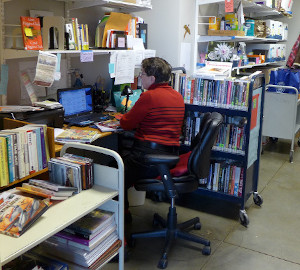 We currently have two volunteer opportunities with Friends of the Tualatin Library:
Book Evaluator – The book evaluator position involves assessing donated books and determining how to utilize and price them for our various sale venues. This is primarily computer work, using a couple of online tools. Volunteers who do this task for the Friends usually work 2-3 hours per week in our workroom at the library. The days/times are flexible and training will be provided by an experienced volunteer.
 
Newsletter Editor – Do you like to write? The Friends have an opening for Newsletter Editor. You would write/edit stories for the newsletter, monitor emails and comments from readers, and maintain the newsletter mailing list. Our newsletter is in email format using the MailChimp platform. It's currently published several times per year; the frequency is open to change depending on the volunteer's availability. This position requires a commitment of 5 to 10 hours per month. You'll find additional information in the Newsletter Editor job description.
If you're interested in either of these positions, please contact President Laura Baker at president@friendsoftualatinlibrary.org