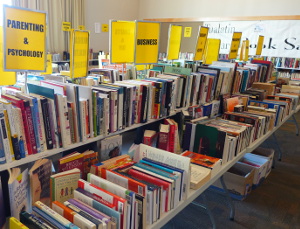 We hope you'll stop by the Friends semi-annual used book sale the first weekend in May to snag some great reads at exceptional prices. It will be held in the Library Community Room May 4th through 6th.
The first hour on Friday is the "Members Only" Pre-Sale, where current members of the Friends will have first pick of all sale material.
Here are all the sale dates and times:
Friday, May 4 (Member's Pre-Sale) — 2 pm to 3 pm
Friday, May 4 (Open To All) — 3 pm to 6 pm
Saturday, May 5 — 10 am to 4 pm
Sunday, May 6 — 1 pm to 4 pm
During Sunday sale hours, regularly priced books will be $3 for a bag. Yellow-tagged items will be 50% off.
Most book prices are in the 50 cent to $1 range, except for some especially nice books and DVDs with prices as marked from $2-5. Credit cards are now being accepted for payment, as well as cash and checks.
If you'd like to volunteer to help at the sale, please contact Allison Austin, our book sale volunteer coordinator.