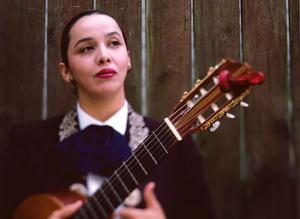 Edna Vazquez will sing Spanish-language ballads with folk, rock, pop, and Mariachi influences at the Tualatin Library on Saturday, September 17th, 3 pm to 4 pm.
Vazquez was born in Mexico and sent to the US by her parents when she was a teenager. Since arriving in Oregon, she's become a musician who performs original compositions that pay homage to her international influences with a passion that comes through in every note of her music. She lifts the audience's spirits during her live performances with a vocal range that allows her to transition seamlessly between folk, rock, pop and Mariachi, all while exploring jazz stylings.
A Friends of the Tualatin Library donation in support of Hispanic Heritage Month made this performance at the library possible. We hope you enjoy it.