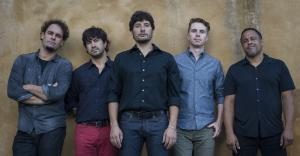 The five-member indie band Mbrascatu will perform at the Tualatin Public Library on Sunday January 22, 2017 at 2 pm in the next installment of the Library's Sunday Music Series. Mbrascatu draws from diverse European and American roots to create a unique signature sound.
Pronounced mm-brah-ska-too, the group's name is the nickname of band leader Andrea Algieri's grandfather, a native of Luzzi, Italy. The band combines banjo, violin, viola, ukulele, guitar, bass, drums, lapsteel and Italian vocals to create indie world-folk music.
A Friends of Tualatin Library donation supports the library's Sunday Music Series.