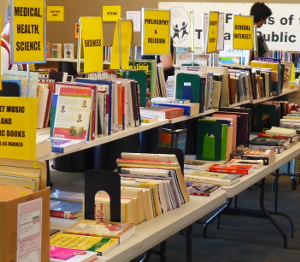 The Friends of Tualatin Library Fall Used Book Sale will be Friday, November 6, 3:00 to 6:00 p.m. and Saturday, November 7, 10:00 a.m. to 4:00 p.m. in the Community Room at the library. This sale will feature a huge selection of media items — music CDs, DVDs, and even VHS tapes for those who still have a VHS player around the house. There will be a bigger-than-usual section of non-fiction books including cookbooks, holiday books for adults and children, and even puzzles and games. Most book prices are in the 50 cent to $1 range, except for some especially nice books in the "Quality Books at Great Prices" section with prices as marked, most from $2-$5.
There is always a line when the sale opens on Friday, so arrive early for the best selection. If you a like a bargain though, all regularly priced books will be $2 for a bag (bag is provided) during the last hour of the sale on Saturday from 3-4:00. Media and special priced books will be 50% off during this last hour of the sale.
Credit cards are now being accepted for payment, as well as cash and checks, so there is no reason you can't pick up books for gifts or to add to your own collection.
We can always use volunteers to help with the sale. Please contact Allison Austin at allison4packers@gmail.com or leave your name and phone number at the Library Help Desk if you are interested.