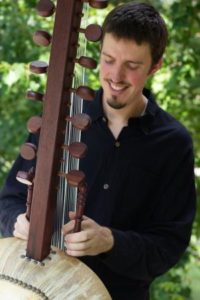 Sean Gaskill will play the kora and sing in a performance at the Tualatin Library on Sunday, November 20, 2016, 2 pm to 3 pm. The kora is an ancient 21-stringed harp from West Africa. Sean will sing traditional pieces from the kora's musical repertoire as well as some of his own personal compositions.
The kora is native to the Mande peoples who live in Gambia, Senegal, Mali, Guinea, and Guinea Bissau. The music is traditionally played by oral and musical historians known as Griots (Gree-ohs). The kora is a melodic and seemingly peaceful instrument, which is somewhat contrary to the lyrics in its musical repertoire. Some songs tell ancient stories of war and hardship, while others praise people of high political status and those who helped expand the Mande Empire.
A Friends of Tualatin Library donation supports the library's Sunday Music Series.