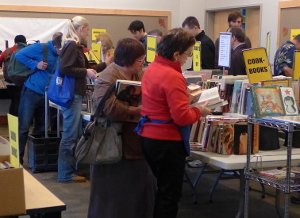 We will hold our annual Summer Used Book Sale on Friday, June 5 from 3:00 to 6:00 p.m. and Saturday, June 6 from 10:00 a.m. to 4:00 p.m. in the Community Room at the library. The book sale moved to early June last year so customers could stock up on books and other materials for the summer months.
This sale will feature a huge selection of media items—music CDs, DVDs, audiobooks, even VHS tapes for those who still have a VHS player around the house. There will be a bigger-than-usual section of Large Print books for this sale, and plenty of non-fiction books in every area of interest. The bargain tent outside will offer paperback fiction titles this year, some available to browse and buy individually and others packaged in "Bargain Boxes" for $3. Most book prices are in the 50 cent to $1 range, except for some especially nice books in the "Quality Books at Great Prices" section with prices as marked, most from $2-$5.
There is always a line when the sale opens on Friday, so arrive early for the best selection. If you like a bargain though, all books and media will be 50% off on Saturday after 2:00 p.m., including the special priced books.
Just a reminder that credit cards are now being accepted for payment, as well as cash and checks, so there is no reason you can't pick up books for gifts or to add to your own collection.
We can always use volunteers to help with the sale. Please contact Allison Austin if you'd like to volunteer.