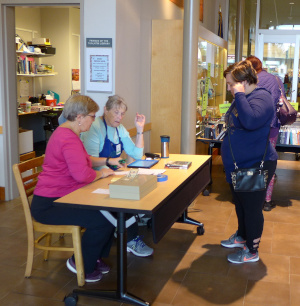 We currently have several volunteer opportunities with the Friends:
Board Member – Our board meets bimonthly (currently by Zoom) to establish organizational policies, plan programs, and make decisions about the disbursement of funds. We're looking for someone who has a passion for supporting the Tualatin Public libary and its community. Check out the job description for additional information.         
Book Sorter/Evaluator.  – If you have computer skills, help evaluate books for potential Amazon sales.
Amazon Store Shipper. Ship our online sale items to customers once per week.
Ongoing Sale Team Member. Join the team that stocks our bookshelves in the library once per week.
Training will be provided for each of these volunteer positions. If you're interested, please contact President Laura Baker at president@friendsoftualatinlibrary.org