Post published:

October 19, 2020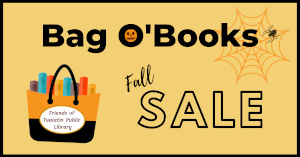 AN UPDATE ON 11/13/2020…
THE FALL BAG O'BOOKS SALE HAS COME TO AN END. THANK YOU…
…TO ALL OF THE TUALATIN LIBRARY SUPPORTERS WHO BOUGHT BAGS OF BOOKS AND DVDs. WE HOPE YOU ENJOY THEM.
…AND TO OUR VOLUNTEERS WHO MADE IT HAPPEN.
Our normal bookselling operations are still closed, but the Friends are introducing another way to buy used books and DVDs. You can now order DVDs and books by the bag and pick them up at the library on Wednesdays from 10-11am or Saturdays from 10am-12pm outside the Community Room doors on the plaza.
Each bag holds an assortment of books or DVDs in a particular genre. Selection is random as we are not able to provide specific titles—that's half the fun! Cost: $5.00 per bag.
The number of titles in each bag varies by genre. Here are the genres that are currently available:
Paperback fiction for adults (larger Trade size) 7 books in each bag
Paperback fiction ROMANCE, 15 books in each bag
Kids picture books (ages 2-5 yrs), 5 books in each bag
DVDs for kids (G rating), 7 in each bag
DVDs for families (PG & PG-13), 7 in each bag
DVDs for adults (PG-13 & R), 7 in each bag