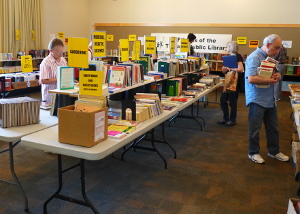 Friends of the Tualatin Public Library is a member-supported nonprofit organization that advocates, fundraises, and provides support for the Tualatin Library. The organization was formed in 2004 by a small group of dedicated library volunteers. We began by having small book sales at Haggen and Starbucks. Soon we set up a book sale shelf in the library. In 2005 the Friends achieved nonprofit status with the State of Oregon and 501(c)(3) designation with the IRS, ensuring that all donations to the organization are tax-exempt.
When the new Tualatin Library was completed in 2008, it included prime space for our ongoing book sale and a workroom where we sort books and handle administrative tasks.
The Friends have donated more than $100,000 to the library to assist with the purchase of materials and to support programs that would otherwise be out of reach with the normal library budget.
Meetings
The Friends board meets bimonthly in the Community Room on the 2nd Tuesday of January, March, May, July, September, and November.
Newsletters
Our newsletters are full of information about our activities and events. Be sure to check out some past issues in our newsletter archive.
By-Laws
The Friends of Tualatin Library By-Laws include a statement of purpose and guide us with regard to membership, meetings, our board of directors, and financial matters.
Board of Directors
Our all-volunteer Board of Directors includes:
President: Laura Baker
Vice President: Eleanore Mickus
Secretary: Allison Austin
Treasurer: Steve Lund
At-large Board members:
Rachel Elliot
Shannon Fairley
Linda Kilgore
Gwen Martin
Meg Poehler
Dee Sitko
Ex-Officio Board member:
Sarah Jesudason, Public Services Supervisor, Tualatin Public Library