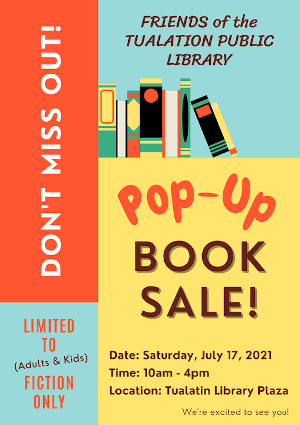 On Saturday July 17th the Friends will re-open our book sales with an outdoor pop-up sale. We are soooooo excited! We'll be offering adult and kid fiction only at this sale. Come visit us and restock your book supply at really great prices.
Date: Saturday, July 17, 2021
Time: 10 am – 4 pm
Location: Tualatin Library Plaza, 18878 SW Martinazzi Ave, Tualatin, Oregon
At this writing, the weather guessers are predicting temperatures ranging from 65 to 81 degrees during the sale hours. Perfect for an outdoor sale!