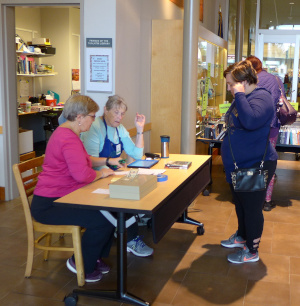 We currently have two volunteer opportunities with Friends of the Tualatin Library:
Membership Coordinator – If you're detail oriented, know your way around a basic spreadsheet, and like to work independently from home in your jammies, please consider volunteering as Membership Coordinator. This person keeps track of membership renewals and new members. We are currently using mailings to reach out for renewals, but are open to ideas from a new coordinator to streamline the process. The time commitment during the membership drive is 1-2 hours per week but is minimal the rest of the year. Check out the job description for additional information.        
 
Newsletter Editor – Do you like to write? Looking for a volunteer opportunity with a fun nonprofit? The Friends have an opening for Newsletter Editor. You would write and edit stories for the newsletter, monitor emails and comments from readers, and maintain the newsletter mailing list. Our newsletter is in email format using the MailChimp platform. It's currently published several times per year; the frequency is open to change depending on the volunteer's availability. This position requires a commitment of 5 to 10 hours per month. You'll find additional information in the Newsletter Editor job description.
If you're interested in either of these positions, please contact President Laura Baker at president@friendsoftualatinlibrary.org