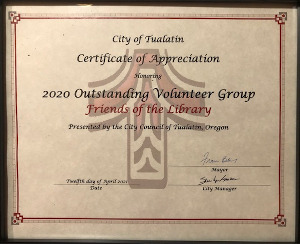 At the April 12th Tualatin City Council meeting, the Friends of the Tualatin Public Library organization was recognized as one of Tualatin's Outstanding Volunteer Groups of 2020. Friends President Laura Baker had this to say:
"It was a tough and challenging year on so many levels, one in which many Friends' groups around the country were understandably not able to operate at all. During lockdown we kept a low profile as required but eventually, our creative, energetic group of volunteers came up with safe ideas that we were able to implement with the support of library staff. I'm humbled by the honor but it's well deserved by our group."
Library Volunteer Coordinator Margaret Gunther sums up our year pretty well: "Seriously, in the year that was 2020, we watched the Friends respond to this crisis like the pros you are. Can't sell books in the Library? You kept selling them on Amazon. Can't have seasonal sales in the Library? No matter, you came up with Bag o' Books and still funded our Tween Readers program! And that's just the stuff I know about, I'm sure there was so much more going on behind the scenes."
Friends volunteers were also well represented in the City's list of Adult Outstanding Volunteers with our own Dee and Don Sitko and Kay Kendall receiving special mention.
Contact us if you'd like to learn about opportunities to volunteer with the Friends.