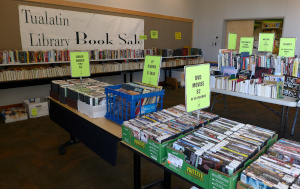 It's that time of year again! The semi-annual Used Book Sale will be on Friday, May 3, from 3-6 pm; Saturday, May 4, from 10-4 pm; and on Sunday, May 5, from 1-4 pm, in the Community Room of the Tualatin Public Library.
The sale will feature a large collection of books for all ages, a nice selection of audio books and music CDs, as well as comic books and graphic novels for teens.
Current members will have first pick of all the sale materials at the "Members Only" Pre-sale on Friday from 2-3 pm.
Most books are priced in the 50 cent to $2 range with exceptions for extra-nice books and DVDs which will be priced individually. Credit cards, cash, and checks are accepted.
The last sale was a great success, and due to all the generous donations of books and media, we hope to do the same at this event. See you all there!