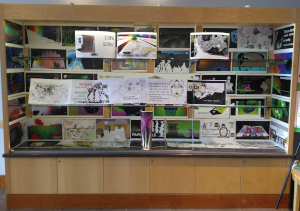 This week our very own long-time Friend, Molly Burns, has a display of her digital art and poetry in the display case in the Tualatin Library lobby.
Molly calls her work "digital" art because she creates it with her Samsung tablet and the Samsung SketchBook app. With SketchBook, you can draw with a stylus (or your finger), add color, import images, and add text. Molly is both an artist and a poet, so her work typically includes both images and words. After creating an art piece on the tablet, she takes it to a local print shop for color printing.
Inspiration for Molly's art and poetry comes from a variety of sources. "Sometimes it comes from little memories that pop into my head," she says. "Or news that I read or just some little thing that happens. Then I experiment."
Molly's art will be on display through Sunday, April 21. We hope you have a chance to stop by and see it!