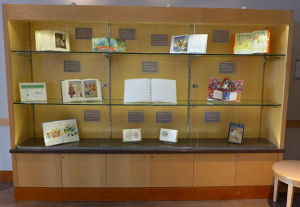 Books Beyond Borders is the title of a new exhibit at the Tualatin Public Library. The exhibit includes an assortment of children's books borrowed on interlibrary loan from libraries and publishers around the world.
The exhibit's centerpiece is a braille edition of The Wonderful Wizard of Oz, borrowed from the Mojave County Library District in Arizona, 1087 miles from Tualatin.
A Japanese edition of Babar holds the distinction of having traveled the farthest, 4837 miles from Japan.
The book Way Back Then also traveled a great distance, 2356 miles from the publisher's office in eastern Canada. It's the story of animals from long ago told in both English and Inuktitut, an Inuit dialect.
The Books Beyond Borders exhibit is a joint effort by Friends of Tualatin Public Library and the Tualatin Library staff. We hope you will find time to visit the library by November 12th, the exhibit's last day. The Tualatin Library is located at 18878 SW Martinazzi, Tualatin, OR.